Optics and Lasers – Laboratory
Optics and Laser laboratory that was previously Saab-Bofors laboratory. Very well equipped with advanced instrumentation for all types of measurements and prototyping of optical components and optical systems.
Optics Research & Development
Extensive experience of development of advanced Electro-Optical and Optical products.
Expert competence within photonics from theory to applied optics to manufacturing.
Imaging/Non-imaging optics, Lens/Mirror design
Aspherical lenses, Combined lens systems
Lasers, LED:s, Detectors, Detector ampliers
C-MOS cameras, LCD Displays
Illumination design, Emitters, Light guides

Fiberoptics, Optical sensor technology
Vision systems and Vision software
UV, Vis and IR applications
Simulations,
Optics courses
Previous R&D projects:
– Laser Range Finders for military use




– Laser proximity fuses for missiles




– High energy laser for missile guidance beam




– Fire Control System sights for military use




– Automated high resolution microscope for morphological blood analysis




– Spectral and optical scattering sensor for separation of blood components




– Allergy diagnostics instrument with embedded C-MOS camera for blood analysis




– Spectral sensor for Hb blood test medical devices




– Sensor optics for reverse vending machines




– Optics end emitters for photodynamic treatment of cervical cancer


– Watch and sensor system for racing


– Measurement systems for test and verification of electro optical products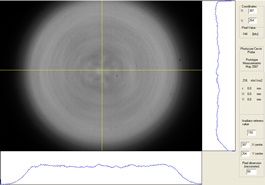 Optics laboratory
– Optical tables and rails, -Precision micro mechanical optical mounts
– Autocollimators and Collimators
50, 90, 140, 200, 300, 500, 2000 mm
– Resolution measurment collimators, Resolution targets
– Square body collimators and telescopes,
– Theodolites, – Presicion inclinometer
– Dioptrometers, – Dynameters
– Laser Beam profiler
– Lasers with various wavelenghts and output power
– Spectrometer/Monocromator dual grating high precision Optronic Laboratories system
– Radiometric and Photometric instrumentation, optical power and energy
– Calibration references flat and spherical, lenses and mirrors 1/20 λ
– Microscopes, – High magnification/high resolution, – Stereo and camera microscopes
– Prototyping and polishing equipment for light guides
– Polishing and cutting equipment for microscope analyze of samples
– Fiber optics cutting and polishing equipment
– Laminar flow clean air bench, – Ultrasonic cleaning equipment
– Large assortment with 2000+ optical components, lenses, mirrors, prisms, filters